Okay, I should be moving on to part 2 of my last post "How to Fight Your Insurance Company" but this info just came in and I couldn't resist.
Something that civilians don't see in the midst of all of this hail storm madness is that the quality of the work that will be performed on their home is largely determined by two things. First, what insurance company is underwriting the home, and second, how aggressively their contractor pursues the insurance company on their claim.
As I mentioned in my last post, Chubb is a great insurance company. Expensive but great. Over the years I have seen dozens of situations where they do the right thing. When disaster strikes they pay on time and they pay enough for the client to hire a professional to put their home back together.  And then there are the other guys.  You know, the ones you see on TV a lot. On almost every claim we handle for clients using these McInsurance companies we end up having to push, argue and debate about both the scope of the loss and the cost to bring the home back up to speed. These companies consistently deny coverage and delay the process of discover and resolution in order to earn higher revenues. The good news is that if you have substantial holdings in insurance company stocks, you have seen your net worth increase handsomely. It's bad news if you own a home and something happens that needs fixing professionally.
Over the past ten years I've noticed a clear trend in the way McInsurance firms handle property loss claims. They send out an adjuster that is marginally qualified to write an estimate, that is lacking in scope and realistic pricing and then submit it to the homeowner hoping they quietly accept it and go away. These guys are adept in the art of minimizing the 'severity of loss', to use industry speak. Many homeowners accept the estimate generated by their insurance company only to discover later that it's woefully underpriced.
This is a clipping of two differently cedar roof replacement estimates from Farmers and Chubb from this week. Farmers pays about 32% less than Chubb to replace the exact same material. What does that mean to the average homeowner in the case of a cedar roof? In short, it means they get to hire one of their insurance company's 'preferred' contractors who installs crappy wood using questionable labor. Side note: For those of you who are new to the world of insurance loss, if you are a Preferred Contractor for most insurance companies it means only that you have agreed to be underpaid, not that your work will stand the test of time. I tell everyone I care about to avoid preferred contractors as much as possible.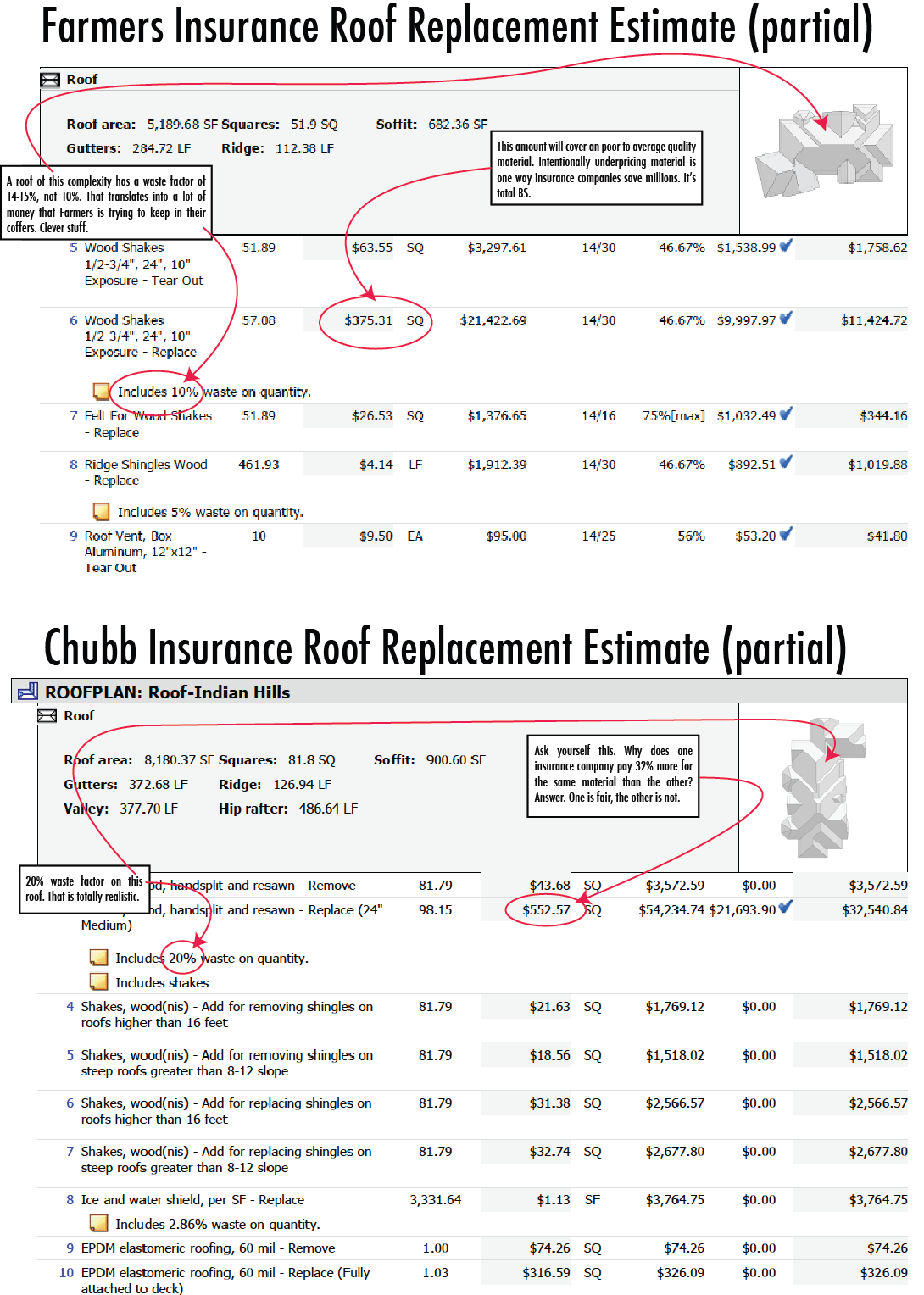 Whether you work with us or someone else with our chops, here is how the typical claims process goes down when you work with a pro: First step, your insurance adjuster visits, makes notes and generates a low-ball estimate to repair the damage (from hail, wind, fire, water, etc.). Step two, we take that estimate and examine it line by line to find then inevitable errors and omissions. Their estimate will usually be off the mark on the scope of the damage and always be low on the dollar amount it will take to make the repairs. Step three, we submit our estimate to your insurance company and begin a little back and forth discussion about your claim. In the case of a good insurance company they listen to reason quickly and we agree on a fair scope and price for the project. In the case of many McInsurance companies we have to push, prod and cajole until they have no choice but to  relent and agree. Why? Because we argue for what is right. No games, no manipulation, no secrets. We just tell the truth about what needs to be done and it's hard to argue with the truth. The final step is the easy part. We sign a contract with you for the work to be performed and it is scheduled and completed with the degree of professionalism people have come to expect from us.
My advice is to find a company with the technical ability to repair your home to the highest standard and with the insurance process knowledge to make sure you insurance company is paying what they owe.
Finally, a parting question. Why is that that someone who insures through Chubb deserves a better roof than the person insuring through Farmers (or State Farm, Allstate, Travelers, SafeCo, etc.)? The answer of course is that everyone who pays to have their home insured should be treated with an equal amount of respect.
---