One Edina Man's Story of Dealing with Storm Chasers and His Cedar Shake Roof
The Problem:
Jerry's roof was replaced by some storm chasers after a hail storm in 2006. His insurance company agreed to replace the skylight units (1) but refused to pay for the replacement of the curbs and curb flashing (2) because "they were not dented by the hail". So poor Jerry had new skylights installed on top of old, crusty curbs. It wasn't long before they started leaking. He chased the insurance company and the roofing company, who both successfully pointed the finger at the other. Sorry Jerry. You lose.


The Solution:
There are two parts to this solution. First, before agreeing to any settlement with his insurance company, Jerry should have called Kuhl to sniff around and examine the claim. We would not have allowed them deny the curb replacements. Period. We have some experienced former adjusters on staff who know all of the games insurance companies play. They don't miss a thing.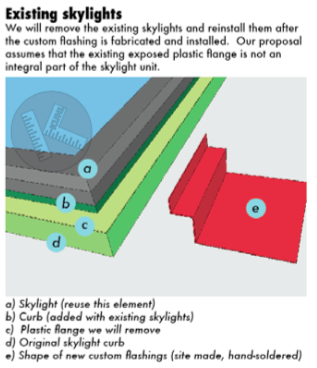 Would have, should have, could have. The fact was that Jerry was left holding the bag and someone had to fix these skylights. That's when he called us. We removed the skylights and bad curb flashings then fabricated a custom copper flashing to accommodate the existing roof flashing and the existing non-standard curbs. After we fabbed up the flashings it was a simple matter of soldering it all together and repairing the roof around each unit.
Now years later, there have been no leaks.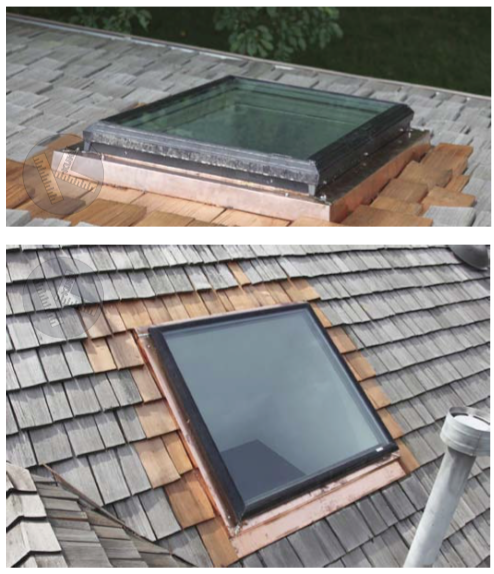 ---