Skylight Repair
Skylights are either great or terrible depending on who you ask.  Yes, in the wrong location they can look ugly and yes, if not installed properly even the best skylight will leak.  We replace and repair hundreds of skylights a year around the Twin Cities metro area.  More often than not it is not the skylights fault.  The problems relate to the human that installed it. See Kuhl Case Study #29.
Do you have a leaking skylight? Or, how about a depressing room that could use more natural light?  No problem.  The people at Kuhl have been fixing and replacing bad skylights for many years and can diagnose what is going on pretty quickly.  We address these and other problems with skylights in Minnesota:
Leaking skylights
Damaged skylights
Skylight flashings
Skylight installation
Skylight replacement
Skylight condensation
Skylights and ice dams
---
Cost of common Skylight replacement or repair in Minneapolis:
Leaking skylights can sometimes be addressed, albeit in the short term, with a high quality caulk such as Vulkem or Lexel.  But don't be fooled, these are temporary solutions.  Sealing leaking skylights in this fashion normally costs between $45 and $75 per skylight.  The best fix for a leaking skylight other then total replacement is to replace the flashing and roofing around the unit.  We do not perform any skylight repairs on skylights over one year old due to parts availability and warranty issues. Skylight installation is best handled by a professional roofer in conjuction with either total roof replacement or area replacement around the affected skylight.
Skylight flashing is a term that applies to a wide variety of materials, usually rubber, plastic or most common metal, that acts to join the roof and skylight systems in a waterproof way.  Most leaking skylights in Minneapolis and St. Paul are related to flashing issues and not to failures in the glazing system itself.
Replacing skylights using the same locations will usually cost between $1250-$2200 per location.  Factors such as roof pitch, site access, roof material and whether or not the new unit is custom or stock will affect the final price of skylight replacement.  We frequently call in our sheet metal team to either replace or augment the flashings around skylights we are installing because manufacturers are not privy to all the odd site conditions that make particular skylight installs a challenge.
How much does it cost to install a new skylight where one does not currently exist?  It all depends.  Installing a new skylight in a new location is a multitrade job usually involving a carpenter, roofer, drywaller, and painter.
Scenario One: Installing a stock size skylight between two existing roof trusses in a unfinished attic space while a new roof is being installed. This is a breeze.  Expect to pay $700-950 per location for this sort of skylight job.  Scenario Two: Installing a skylight in an existing finished space (complete with insulation, enameled wood ceiling and hidden low voltage wiring all over the place), through an existing slate roof that is old and brittle on a scary-steep roof pitch three stories high.  This is a lot of work.  Expect to pay anywhere from $2500 to $4500 per location.  After all, this is a small remodeling project when you consider the complexity and scope of the work that needs to happen.
Kuhl has everyone you need for this job on staff so the execution of skylight replacement or repair is quite simple. Keep in mind that we can not repair skylights that are over one year old. If your skylight is less than one year old, we can repair it using factory parts. If your skylight is over one year old our protocol is to replace it. This way we are able to warranty our work and the skylight for a period of years.
---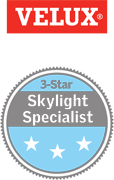 Velux 3-Star Skylight Specialist
Kuhl's Contracting is a 3-Star Velux Skylight installation specialist. If your skylight is beyond repair and you're looking to install new windows, or you are thinking of adding new skylights to your home, contact Kuhl's Contracting and ask them about Velux Skylights.