Testimonials, no seriously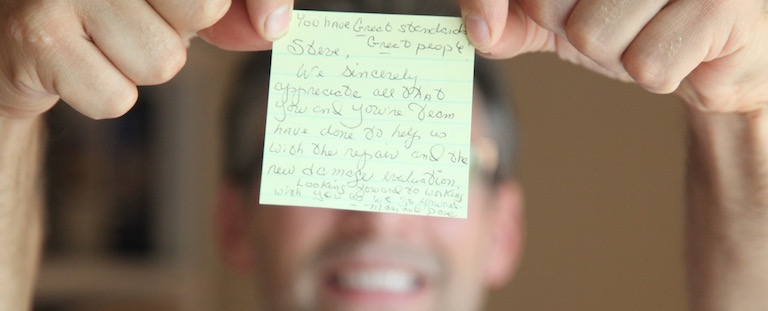 Have you ever read a testimonial and thought, "I wonder if it was his brother or his girlfriend who wrote that?". So have we. Here are testimonials from real people in the Twin Cities. In fact, you may speak with anyone of them. Just ask and we will connect you. The sentiments these testimonials reveal are the rule, not the exception. If we don't hear such words of praise from you when your project is complete we see it as a failure.
We are truly humbled by the kindnesses expressed by our clients and share a few here so that you might understand the experiences of others who have trusted us with their homes.
To all people at Kuhl – We are so pleased. Our roof looks wonderful. Your people took care of everything — always on time — answered all questions. You kept the project so clean. We couldn't be more happy then we are with your crew,  your project manager Tom (he is a treasure) was always available. Your company is judged by your people and you are winners! Thank you, thank you and —-oh yes– THANK YOU!
Gil & Betty Landsiedel
Hi Steve! I wanted to let you know that we were really impressed with you, your staff and the work on our new copper roof saddle.

It was a stroke of luck to come across your company when I did a search on the internet.  My husband was even impressed and that is hard to do when it comes to contractors!  🙂

If I can talk my husband into finishing our basement, we may have your team out again! Thanks much!
Karen Italia
Hi Steve. We made the right choice! Your advice was excellent and your crew outstanding. And Tom is a dear. It's seldom that you contract for work and its' done exactly as promised, with no surprises.  Thank you.  Oh, the roof is beautiful! You are the best roofing contractor in Minneapolis and I will spread the word.
Dr. Hope B Thornberg, St. Louis Park Cedar Roof Replacement and Custom Flashing Repair
We are definitely happy with everything.  You are wonderful.  Consider me a lifelong Kuhl customer or "cool" customer – ha!! You are a great communicator – a skill in short supply, in general, so very much appreciated by me.
Stephanie Lilak, Country Club Edina Stone Wall, Custom Front Door and Chimney Repair
Many thanks to all members of the Kuhl building team.  The gutters job on my Edina home were expertly installed between showers and falling leaves!
John Mooney, Edina Gutter Installation
Steve and his team really go the extra mile. It's clear you're working with true professionals the entire time.
Aaron M. Lahn, Minnetonka Cedar Roof Restoration and Repair
We are very happy with the insulation work done by Kuhl's Contracting on our home in Edina. A few other companies bid for an attic insulation project, but none took time to really understand needs we had related to an older house, and feel some of the other bids would not have passed inspection. Everyone on the crew was easy to work with and very conscientious. We wouldn't hesitate to recommend Kuhl's and will work with them on future projects.
Betsy & Joe Tenner, Edina Insulation Project
When it comes down to it, I can tell you that Lorraine and I seek to work with people who just love their jobs. It's that simple. Invariably they are the best at what they do. And now we number Kuhl's in that group (along with our lawn guy, house cleaner, plumber, and electrician–we're lucky to have so many good people lined up).
Stephan Grande, Orono Ice Dam Prevention and Skylight Replacement
We hired Kuhl's Contracting to address a problem area on our garage roof that was prone to ice dams. They recommended a heat cable system as the solution, and the problem is solved. The work was done professionally, the crew was courteous, and any questions we have had have been answered promptly. I would definitely use Kuhl's again!
Jim Vogl, Golden Valley Ice Dam Prevention and Heat Cable Installation
Brad and I wanted to drop you a quick note to let you know how pleased we were with the work Tom recently did on our house.  Your crew was very respectful to our nanny, they finished the work ahead of schedule and under budget(!) and Tom even took the time to prepare the Centerpoint Rebate paperwork on our behalf.  We were very impressed.
Brad & Angie Swatsfager, Edina Insulation and Ice Dam Prevention
We stumbled onto the Kuhl team when the contractor we called to clean, repair and seal our cedar shake roofs in Hopkins (house, stables, playhouse and garage) backed away from the project — our roofs were too steep — and pointed us in the direction of those brave guys at Kuhl. Delighted with their cedar roof work, we have continued to engage the Kuhl team for myriad projects: completing brick work on uniquely designed chimneys, installing a new steel pan in a problematic roof area, removing troublesome ice dams, providing advice on exterior paint colors and designing a full kitchen renovation for our circa 1925 English Country Cottage — a design which we fully hope to execute once we find the courage to pull the trigger on the demolition process. Steve Kuhl and his talented team have provided thoughtful and creative solutions to our "old house" challenges…all with a unique blend of professionalism and humor. They take things seriously so we don't have to.
Brad & Suzette Neary, Hopkins Cedar Roof Repair and Restoration and Chimney Repairs
We chose Kuhl's Contracting because they were recommended by a knowledgable source at the Edina City Hall. We needed roof repair due to water leakage. Diagnosis of the problem was thorough with the inclusion of photos. All inquiries were promptly addressed. The work was completed in a timely manner. Clean up was exceptional. We were very pleased with the results.
Richard & Margerie Dahlager, Bloomington Cedar Roof Repairs and Restoration
Cedar shake is a premium roofing material whose life is dependent on proper installation. So for our new roof in on our Wayzata home we wanted to be sure that we would have a quality job done properly. Some years previously, Kuhl's had re-roofed our three-season porch, and made some repairs to the rest of our original shake roof, so we were comfortable that they would do a first-class job for us once again. From the detailed estimate through the arrival of materials and start of the job, everything happened as promised; we were particularly impressed with the thoroughness of their clean-up each day. Tom, the project supervisor, checked on the job frequently, kept us posted on how things were going and answered all questions. The job was finished on time, the new shakes look terrific, and we've received compliments from our neighbors on the look of the roof and the house. From our experience we would recommend Kuhl's to those seeking quality workmanship and professionalism.
George Veit, Wayzata Wood Roof Replacement
Yes, yes and yes. Would I recommend Kuhl's to a friend? Yes. Would I use Kuhl's again? Yes. Was my experience a good one? Yes. It really was a pleasure to work with Steve and his crew through our cedar shake roofing project on our Minneapolis home. From the bidding process through the execution they were clear, honest communicators. Like any project we undertake, we solicited competitive bids. Steve's was not the lowest, but in my opinion it was the smartest. He didn't just feed me back answers he thought I wanted to hear, he helped us understand the complexity of the project, the different styles and materials available to us and what was architecturally correct for our house. One of the first things he told us, was we had a few more years left in the roof and he could just address the problem areas for a lot less money. I didn't hear that from the other contractors. We went ahead with the project anyway. Glad we did; they did a great job. They were clean, efficient, and respectful of our property and our neighbors. The whole thing went very smoothly. Tom, the foreman on the job, is super communicator; he would call or email us with updates and status reports daily so we always knew where we stood in the process. He also did a great job managing and scheduling the subcontractors, which by the way, were all very talented craftsman. We are very happy with our new roof, yes I could have got it done cheaper but I don't think I could have got it done better. We are proud of our house and we wanted the roof done right. Now that the roof looks so good I think I might need to re-stucco. Steve, can you give me a bid? Thank You Kuhl.
Mark & Peggy Haumerson, Minneapolis Half Round Gutter Installation and New Wood Roof Installed
Steve, I really enjoyed working with you and both Tammy and I were very happy with the way you promptly addressed the "followup items" after the big job of replacing our cedar roof in Minnetonka. It's always been a pleasure to work with Tom as he is very honest and cares about the customers and their concerns. We have worked with Kuhl's Contracting twice now and would recommend them to anyone who wants a job done well for a fair price. Sincerely, Mark and Tammy
Mark & Tammy Blomquist, Minnetonka Wood Roof Replacement and Custom Roof Flashing and Chimney Repair
We chose Kuhl because Steve was both professional and appropriately persistent over a long period of time. We were impressed with the high quality visuals he used to describe our situation and what his company would do if hired. He explained the difference between Kuhl's Contracting and his competitors with an emphasis on quality of materials and workmanship. Once hired, the job was managed by Tom and crew and they carried out exactly what had been proposed in a timely, professional manner. They were especially careful to prepare the site, clean up after themselves, and communicate with us as they went along. I would hire Kuhl again for just about any construction and would not hesitate to recommend them to friends. In fact, they have already worked for three of our neighbors in Wayzata.
Peter Sammond, Minnetonka Cedar Shake Roof Replacement and Custom Metal Roof Flashing
We first hired Steve Kuhl last year after seeing him on the news talking about ice dams. When we looked up the Kuhl's website and saw Steve's picture with the giant icicle under his arm we knew this guy loved his work. We hired his crew to take care of our giant ice dams on our Orono home. This year we brought them back again for a new project and Kuhl's did another great job for us—I mean with us. They listened to our ideas, answered our questions, researched our concerns, and came up with a solution that was perfect just for us. These guys actually made a boring project fun—we're talking ice dam prevention and electrical upgrades here (yuck). It was on time, exactly what we needed, and fairly priced. Everyone we have worked with from Kuhl's has had the same I-Love-My-Job attitude and that makes it so much easier for all of us! Thanks guys for another job done well and with enthusiasm.
Lorraine, Orono Skylight Replacement and Ice Dam Removal and Ice Dam Prevention
We contracted Kuhl's Contracting on two occasions. Eleven years ago to clean and seal a cedar shake roof in Eden Prairie, and recently to replace the house and garage roof in Roseville. The experience with the company has been very positive. Work was started and completed on time. I admire my roof.
William Schroeder, Roseville Asphalt Shingle Roof Replacement
As an licensed Architect it has always been a challenge to find a contractor that understands the importance of detail to the success of any project. Steve Kuhl has participated in design solutions and anticipated construction challenges before they happen. Steve has educated me on new construction systems and products for our specific projects. Kuhl's has the tools, experience and creativity to take on complicated projects that need special attention. We have used Kuhl for additions to our personal residence in Minnetonka and are considering a major remodeling of which I would not hesitate to bring Steve early into the design process which I know will benefit the construction process.
Tim Whitten, AIA, Minnetonka Flat Roof Replacement and Cedar Roof Cleaning and Restoration
We had a very positive experience with Kuhl's Contracting. The initial estimate was presented clearly and concisely and closely adhered to. There were no hidden surprises once work commenced. We were extremely satisfied with the work performed on our Bloomington home and the crews were courteous and fastidious about their work. Any problems that arose were handled quickly and efficiently.
Bob Manuel, Bloomington Hand Split Shake Roof Replacement and Chimney Cap Replacement
Recently I had Kuhl's Contracting repair the roof on our home in Hopkins, replace a deteriorating stone wall and gate going into our back yard. They also did major reconstruction to the fire place chimney and installed two chimney pots. We were very pleased with the results when the project was completed. We were always kept well informed with the project as it was being worked on. No hidden surprise or cost adjustments after the job was finished. Kuhl's employees did an outstanding job and were a pleasure to work with. I would strongly recommend Kuhl to anyone that is looking for a contractor. You won't find a better company than Kuhl's Contracting to deal with.
Dale Blanchfield, Hopkins Stone Chimney Repair and Stone Wall Construction
My husband and I found Kuhl's on recommendation from a friend who said Kuhl's Contracting was the top of the line for help with ice dam prevention. We are inclined to agree. I was impressed from the consult through to the final installation. When Tom came out to our Shorewood home to quote the job, he was very thorough: inspecting the site, asking good questions and giving me a clear sense of options. He wrote up a fantastic proposal, estimate and statement of work. It was very clear about exactly what would happen. This helped tremendously as the different teams came through to add insulation, improve venting and install heat cables. I was able to keep track of the work and compare the progress to the plans that were agreed on beforehand. The teams did a great job, and we are happy with the work.
Sheri Aggarwal, Shorewood Ice Dam Prevention and Home Insulation Upgrade
Why would anyone do business with Kuhl? If you value honesty, integrity, creativity, vision and collaboration then you should.

We were introduced to Steve Kuhl more than 12 years ago when our Eden Prairie home experienced some hail damage. At the time, several of our neighbors were having their roofs replaced due to the damage. When Steve arrived to assess our roof, he let us know that there was minor damage that should be repaired and some necessary maintenance, but there was no need to replace the entire roof. We were immediately impressed with Steve's honesty and integrity. He could have told us that the roof needed to be replaced, but that is not how Steve operates his business.

A few years later, we began looking for a home in Edina to remodel and immediately thought of Kuhl Design Build. Our past experience was so positive we knew we wanted to partner with them on our next project. The Kuhl team was integral to the entire process. They became part of our team when considering several homes and helped us to identify the right home to fit our needs. Their creativity and vision helped us to look beyond the existing home to what it could be and how it could be accomplished. After we purchased the home, the Kuhl Design Build team took over the project. The project was extensive, taking nearly every room down to the studs, removing walls, redesigning the kitchen and remodeling every bathroom in the home. Nearly nine months later the project was complete, on-time and on-budget.

The end product was beautiful in part due to Kuhl's attention to detail and the excellent, creative design work provided by the company. Kuhl was competitively priced and was fair with us in all our dealings. Their crew was professional, friendly and knowledgeable.

We have since done a few smaller projects with the company over the years, all with the same excellent outcome. When it comes to home remodeling we don't even think of anyone else, we just call Kuhl Design Build.

We would highly recommend Kuhl. Not only are we very satisfied customers, but we consider them to be our friends.
Jon & Jody Foust, Edina Chimney Repair and Wood Roof Restoration and Repair
We chose Kuhl's Contracting to work with us on our roofing project in Wayzata because of their experience and credibility with large roofing projects along with having the design experience to guide us. Attention to details and professionalism were critical to us and they exceeded our expectations. Our project then extended into our interior space. Everyone we worked with held their product to the highest standards. They gave us the attention to detail we demanded and beat our expectations. Tom, our project manager, was constantly in contact with us ensuring everything was done in a timely manner. He worked hard to track the details, find us answers, and make sure we were happy with the results. Choosing Kuhl was the right decision, and we are thrilled with the final product. We would confidently use Kuhl's Contracting again for our building projects and strongly recommend them to family and friends.
Erik and Tara Engebretson, Wayzata Flat Roof Repair and Flat Roof Replacement and Chimney Repairs
Kuhl did a large roof restoration project for a 120 unit townhome community in Minnetonka and they were professional, responsive and efficient. I would recommend Kuhl for any roofing needs.
Colleen Nesseth, Gittleman Management Commercial Roof Restoration and Repairs
My wife and I were investigating getting our  hand split-shake roof checked for any damage from storms, critters and just wear and tear from being 25 years old.  We also wanted to get a sealant put on to add protection from the elements.  We met with Steve Kuhl in 2003 to get a bid from his company and to see what services they offered.  Steve got up on our very high roof that has many ridges/hips to inspect every section and discussed his findings with us.   While showing us pictures of what he found, he described what specific areas needed attention and how Kuhl's Contracting would attack the job if we decided to use his company.  Both of us had a good feeling about Steve and the company but we requested names of past customers so we could contact them.    Steve sent us those names and a very detailed estimate sheet on the items needing attention on both our house and garages.   After checking with other companies we accepted the Kuhl's proposal and they started the work.   We were extremely happy with the work and the work crew were professional and careful while completing the job.  Our roof was repaired, sealed and shakes replaced and it looked like new when the crew was finished.   There were no "surprise" costs after the job was completed either, the proposed bid was accurate.

Steve was very easy to work with and we sensed the honesty and integrity of his company.  We called him again last year and had Kuhl's Contracting again do work for us.   We have given his name to family and friends because we know from experience that he will address any questions they have and if work needs to be done, it will be done correctly and at a reasonable price.  We don't think you can go wrong with Kuhl's Contracting!
Bert and Bonnie Notermann, Shakopee Cedar Shake Roof Cleaning, Repairs and Restoration
We love working with Kuhl because they are so trustworthy. Oftentimes with house projects you never know if you are getting the straight story. We know that Kuhl knows homes inside and out, and they always do quality work. Also, they have been able to solve some of our strange homeowner mysteries that other companies couldn't figure out!
Chandler Murphy, St. Louis Park Roof Replacement and Handyman Projects
We worked with Kuhl's Contracting to diagnose problems with our older home's insulation after a winter dealing with ice dams and water leaking into our home. They were recommended to us by a relative.

They investigated our house's problems, and followed up with a written report of their findings and recommendations. They corrected problems that had existed since the house was built, corrected our insulation problems, and installed heating cables where needed.

They were very nice to work with, very helpful and thorough in answering our questions. They cleaned up after the work was done, and assisted in filling out the paperwork necessary to get an energy rebate for the work we had done on our house. I would highly recommend them.
Anna Bergquist, Golden Valley Ice Dam Prevention and Home Insulation Upgrades
A few years back, my husband and I purchased a house in Orono that needed repairs to its cedar shake roofing material. I didn't know anything about that kind of work or who to look for until I observed one of our neighbors having similar roof repairs done by Kuhl Design + Build. Their roof looked great afterward and my neighbors highly recommended Steve and his team. Steve is very personable and I was so impressed by the questions he asked and his immediate desire to get up on our roof and take a look at what might need to be repaired. He just pulled out his ladder and climbed right up and took photos so we could both see immediately what was problematic (thankfully, I didn't have to get up on the roof, too!). Steve gave us a complete estimate of what needed to be done, his team was highly reliable and did what we had agreed to, they protected our shrubs and landscaping around the house so there was no damage, and they promptly cleared away all debris and extra materials. Each year since then, we have Steve's team come by to check our roof for any new repair issues. Minnesota weather is intense in all ways, we experience the full range of seasons and conditions here, and keeping a roof in good condition is essential to prevent further house problems. We have highly recommended Steve and his Kuhl crew many times and will continue to do so. They are exceptional in what they know and in their trustworthy work ethic.
Jeanne Hoene Fayfield, Orono Wood Roof Restoration and Repairs and Chimney Flashing Repairs
Kuhl does very nice work with lots of common sense and no BS. There was excellent coordination and logistics by Tom and we are very happy with our new cedar roof on our Lake Minnetonka home.
Bill Kanuit, Tonka Bay Wood Roof Replacement and Flat Roof Replacement
Kuhl's Contracting did a great job of assessing our roofing needs on our Eden Prairie home and completed the project very quickly and efficiently. They were professional and gave us an honest appraisal and told us what we could let go until a later time. I highly recommend their services.
Lynn Mallory, Eden Prairie Wood Shake Roof Restoration and Repairs
I contracted Kuhl to clean and repair my cedar shake roof in Wayzata in 2010. They were very responsive, did an excellent job, and thoroughly cleaned up afterward. I was very impressed and will use them for any future work of this kind.
Ed McDonald, Wayzata Wood Roof Cleaning and Repairs and Skylight Repairs
Kuhl had done repairs to my roof in 2007 and in 2012. Both times everyone I dealt with was courteous and professional. Steve Kuhl showed me what needed to be repaired and had to come up with a creative solution to a problem of a leaking roof vent. He didn't try to sell me a new roof, but instead worked with me to try to maximize the life of our cedar shake shingle roof.
Eric Bressler, Minnetonka Cedar Roof Cleaning, Repairs and Restoration and Custom Metal Roof Flashing
We did have 3 other roof companies give us their recommendations and estimates for our Minnetonka residence, but no one came close to the expertise that Steve showed. Steve had given me a crash coarse on what needed to be done and the best treatment and questions to ask, so I felt prepared for the other companies. The representative from the Roof-to-Deck franchise didn't even get on the roof! Look no further than Steve and his team if you need your roof project done with care and professionalism.

We had our 10 year old cedar shake roof restored the summer of 2011 after concern that organic material was accumulating rapidly with our dense shade environment. From the first inquiry phone call to the office of Kuhl Design-Build, with Steve Kuhl on the roof for a thorough inspection and detailed evaluation and proposal that very day right through the completion of the job, I knew I had found the right person and company to complete the maintenance and restoration of our considerable investment in our roof. The two workers who actually did the work~beginning with minor repairs and careful washing~were very hard workers and so careful with our landscaping. This was a huge concern of mine, but I was so impressed and happy with their consideration and care. Because it was a particularly rainy summer and Kuhl would not waver on the 3 day no rain policy, we were kept updated on the status of their schedule and it was completed as soon as the weather allowed. Again, the same two workers were just great~considerate of the landscaping and thorough and efficient at their jobs and they obviously took great pride in their work!
Eris Hunter, Minnetonka Cedar Shake and Shingle Restoration and Chimney Repairs
When I met Steve, we hit it off. He spoke plain English and didn't make me feel like a woman in a mechanic shop. After inspecting my roof–thoroughly!, he broke it down for me. He had filled out a contract, handed it to me with perfect explanation. His honesty was refreshing and never once did I feel pressured. He gave me my options, offered his opinions and left it up to me. There was even 'friendly' follow-up! Upon receiving the contract, Nikki called right away. And then kept in touch when weather pushed back my scheduled date. Steve called after the work was completed and I mentioned a few curled shingles. He sent his guys out the next day. Good service is a dying art but I had a GREAT experience with Kuhl's Contracting!
Heidi Frederickson, Eden Prairie Wood Roof Restoration and Repairs
Kuhl's Contracting does an excellent job of developing a solution for the problem and then fixing the problem using their own trained experts. Kuhl's Contracting has been doing an annual inspection and repairs on my cedar roof in Shorewood for the past seven years and have extended the life of the roof beyond my expectations.
Jerry Leising, Shorewood Deck Flashing Repair and Siding and Cedar Roof Restoration and Repairs
The best thing about Kuhl's Contracting? There are three… 1) Steve Kuhl listens to "your" needs and never sells you something you do not want or need. 2) Their bids are clear, detailed and transparent so you know exactly what will be done, how it will be done, and what it will cost. 3) Their workers are professional, skilled, and clean up so well you never knew they were there. Once you start a job with Kuhl, you never have to think about it again. Pleasing their customer by achieving the customer's goals…that is what they are all about and they succeeded in this with both us and our daughter. Would I recommend them? Definitely!
Laurie Kozlak, Edina Wood Shake Roof Restoration, Repairs and Preservation 
I have two kids in college and an aging roof, so tuition and roof repair are major contenders when the budget is tight. Scanning lists of contractors didn't provide much differentiation when it came to value — I was looking for great, quality work at a reasonable price. Several neighbors recommended I talk with Steve Kuhl of Kuhl's Contracting. Steve came to the house, inspected the roof, took pictures and provided me with a report full of value-based recommendations, which also included a plan and budget estimates. He listened and respected my need to keep to a set budget, scoped the work carefully and communicated the priorities and associated expense, and explained why the repairs were needed. Steve was personable, very gracious and an expert at the same time. The office and roofing teams were equally delightful coordinating scheduling and services. The work was performed when scheduled, and the roofing team took great care to keep a clean work environment. The roof was power washed, many damaged shingles were replaced and areas the needed shoring up, like flue caps and chimney flashings, were addressed to prevent leakage and extend the life of my roof. I am confident in the highest quality work and results I received from Kuhls Contracting and highly recommend them.
Maureen Ward, Bloomington Roof Repairs and Cedar Shake and Shingle Washing
Steve was very knowledgeable, did a great job of explaining the process, and the timing to get on the schedule was reasonable. I appreciated all the pictures and videos he took so he could show me the condition of the roof and explain what needed to be done to repair it. The staff that I talked to on the phone was always friendly and responsive to questions. The repairs look good. When we choose to do the power wash we will definitely give you a call.
Nikki Krakow, Eden Prairie Wooden Roof Repairs From Wind Damage
Our neighbors ask if we replaced the roof because it looks so good. They saved us lots of money in the long run and we are very pleased with their work.
Sheila Marver, Minnetonka Cedar Shake Roof Repairs, Washing and Preservation
Steve and the staff at Kuhl's Contracting provide a fair, honest, and high quality service experience for their customers that is truly a rare find these days. After being given an earlier quote to wash and "restore" my roof from Roof-to-Deck, Steve took the time to show me and really explain why my roof was not fit for such a service at this time, and why the bid I had received stood to only create more damage and ultimately, waste my money. Instead, together we crafted a short and long term plan that addressed my roof's needs today, and help me prepare for what will be needed in the future.  I not only appreciate, but have immense respect for a businessman who doesn't believe in making a fast buck, and invests in clients happiness and satisfaction over the long haul – and that's Steve.
Shelly Kist, Eden Prairie Roof Repairs on Wood Shake Roof
Hi Kuhl Peeps,
I just wanted to let both of you know that our new door is in and working beautifully. The real test will be when all of our children return from their various summer stops. I have very high hopes!! Steve, you could not have been more helpful and solving this issue for us. Thank you! I must add that between Deon and Andy the team you put on the job was first rate and a pleasure to work with. Once again, Kuhl has come through for us in a major way! Thank you.
Mary Fenske, Eden Prairie Handyman Projects
I have had the opportunity to contract work with Steve Kuhl and Kuhl Design Build on three separate occasions on my home in Eden Prairie. I was initially referred to Steve by another roofing contractor because of his specialty in steep pitch wood shake roofing. Steve and his company have performed routine maintenance and repair work on my wood shake roof which I believe will ultimately extend the lifetime of my roof and save me the expense of premature replacement costs. His work has always been excellent. He schedules jobs and keeps to that schedule. I have always had close and easy communication with Steve, his office staff and the job foreman. They recently added a copper chimney cap to my fireplace which will last indefinitely and provid added protection as well as aesthetic value to my home. I have always felt that Steve has been fairly priced and that I have received good value for the investment I have in my wood roof. I would highly recommend Steve Kuhl and Kuhl Design Build for any home remodeling, repair or maintenance project.
Ken Askew, Eden Praire Chimney Flashing Repairs and Custom Chimney Cap and Cedar Shake Restoration
My husband and I are delighted with our experience working with Kuhl Desgin+Build. Kuhl was involved with cleaning, repairing and sealing our cedar roof and also replacing 4 skylights on our Lake Minnetonka home. On another project following an ice dam, Kuhl helped us reply to the insurance company's adjustor's quote to recover all our losses. We would look forward to working with Kuhl again as we found the entire team very professional, knowledgeable, experienced, conscientious, and truly providing the best results for customers. Only wish is we would have discovered Kuhl Design+Build years earlier!
Shawn & Sheldon Rockler, Excelsior Skylight Repairs and Replacement and Cedar Roof Cleaning and Repairs
Hi Tom -Yes, the chimney looks fantastic! Greg is an artist. We are very happy.  And …the front step, too.  Also – Greg came in and took a look at our fireplace and it seems everything is in working order. The flue knob was unhooked…that's all.  SO…we are all set for winter! I can't say enough for the crew in general, Tom.  They were great….hard working, efficient, communicative and timely. Can't believe it got done so quickly. And, thanks for the bill update.  Makes perfect sense.  We appreciate your attention to this. We will get a check sent as soon as we get the final invoice.  Thanks again for everything!
Mary Keepers, Minneapolis Chimney and Front Steps Repair